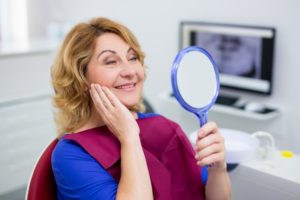 It's impossible to lead a normal life when you're without a full set of teeth. You're not able to eat many of the foods you enjoy, and you're left feeling reluctant to smile. With the summer months rapidly approaching, don't settle for hiding your personality. Continue reading to learn why now is the best time to have dental implants in Chelsea placed!
What Makes Dental Implants Special?
Dental implants are the only form of tooth replacement that actually work beneath the gum line. In doing so, they are able to recreate the natural stability provided by the original tooth roots. The procedure involves a dentist surgically inserting titanium posts into the underlying jawbone. Over a period of a few months, the implants fuse with the bone through a process called osseointegration.
Later, abutments are added, which are also made from durable titanium. Acting as anchors, they allow a final restoration (denture, bridge or crown) to be securely attached. You'll be left with a highly functional and attractive smile.
Why is Summer the Right Time?
As the days get longer, it's only normal to desire to get out and mingle with other people. If you're unhappy with your smile, it can be a hinderance. Here's how having implants placed can help:
You'll Look Younger
Having teeth missing can make you look older. In addition to contributing to facial and jaw shifting, living without your teeth can lead to premature wrinkles. With the placement of dental implants, you'll be left with an attractive and more vibrant appearance.
You'll Regain Your Functionality
People who have dental implants placed are able to regain up to 75% of their original chewing capacity. Additionally, they don't have to worry about wearing dentures that slip and rub their gums to cause painful sores to develop.
Smile Stabilization
When there are prolonged gaps in your smile, the surrounding teeth can eventually start to shift. As they search to reestablish the missing tension, they can alter your bite and leave your gums more susceptible to bacteria accumulation. Thankfully, these issues can be avoided with dental implant placement.
How to Move Forward
To have your smile upgraded in time for the summer, you'll need to take action and reach out to a local implant dentist to request a visit. The sooner you get in for an initial consultation, the closer you'll be to reaching your final goal of restoring your confidence and life to normal. With a brand-new smile, this will be a summer to remember!
About the Author
Dr. Steven Rodriguez earned his dental degree from the University of Michigan. Throughout his career, he has remained hungry for knowledge. Thus, he still participates in continuing education courses, which includes advanced training in dental implant placement. Dr. Rodriguez helps his patients get their lives back on track by placing dental implants at Healthy Smiles, and he can be reached for more information or to schedule a visit through his website.