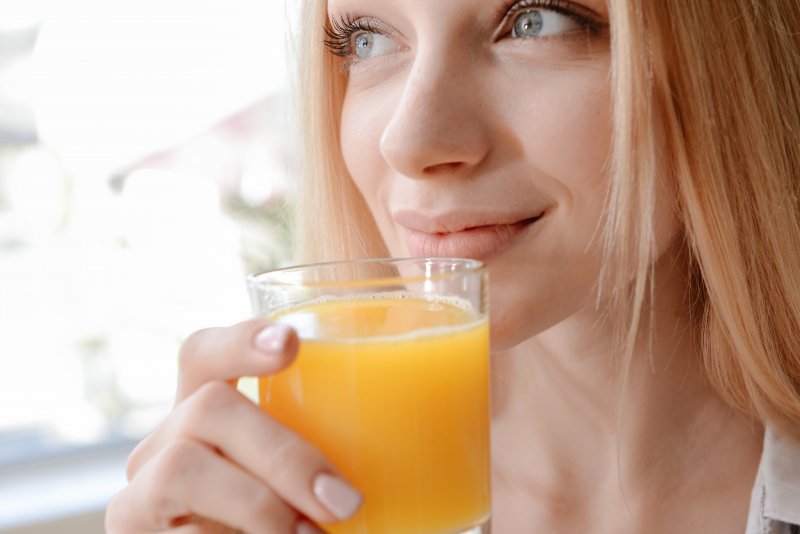 Are you trying to eat cleaner? Thanks to the internet, it's easier than ever to find a diet trend that promises to be life-changing and help you reach a healthier weight in no time. Unfortunately, some popular diets do more harm than good – and you might not realize the impact until it's too late. Read on as your dentist in Chelsea shares three popular diet trends that can ruin your oral health and how you can adjust them to protect your smile.
Juice Cleanses
Since fresh fruits and vegetables are a vital part of a well-balanced diet, juice cleanses might seem like an acceptable and harmless trend to follow. However, that's not necessarily true. When you only drink juice, you're missing out on essential fiber and nutrients your body needs to keep your hair, nails, skin, and teeth healthy. Natural fruit juice is high in acid and sugar, causing damage to your enamel, weakened teeth, and an increased risk of decay and cavities.
How to Protect Your Smile
Instead of following a juice cleanse, consider increasing your intake of fresh fruits and raw vegetables in their whole form. Strawberries, celery, carrots, cucumbers, and apples are just a few delicious, tooth-friendly foods. If you decide to drink juice, be sure to use a straw to minimize contact with your teeth.
Raw Food Diets
Some people claim that eating raw foods helps you get all the nutrients you need while avoiding unhealthy preservatives and chemicals. While that is true, this diet can also ruin your teeth. The damage comes from overconsumption of fruit, nuts, or seeds. Since fruits are high in natural sugars, they can lead to tooth decay and cavities. Plus, seeds can get stuck in your teeth and encourage bacteria growth.
How to Protect Your Smile
As mentioned earlier, some raw foods can benefit your oral health! Almonds, pears, and spinach are excellent for your oral health because they require significant chewing and stimulate saliva production. To prevent damage from nuts and seeds, consider chewing sugar-free gum or floss after your snack.
Small Meals
Dieticians and celebrities recommend eating several small meals throughout the day to keep your waistline slim. However, this diet leaves teeth susceptible to damage up to an hour after you eat. Even if you're eating healthy foods, your enamel can still wear down with frequent snacking, especially if you fail to care for your teeth in between meals.
How to Protect Your Smile
While this trend might be a great way to manage your weight, it can still damage your teeth. Keep your mouth healthy by implementing a consistent oral hygiene routine, rinsing your mouth with water after eating, and being mindful of the foods you consume.
Your diet affects more than just weight – it affects your oral health too. By sticking to foods that benefit your entire body, you can maintain a beautiful, healthy smile that lasts a lifetime!
About the Practice
At Healthy Smiles Dental Care, we provide comprehensive, high-quality, world-class services that are bound to exceed even the highest patient expectations. Our team is passionate about educating patients to help them make informed and confident choices about their dental care. If you have any questions about how your diet affects your smile, we're more than happy to answer them. Visit our website or call (734) 475-8911 to speak to a professional.