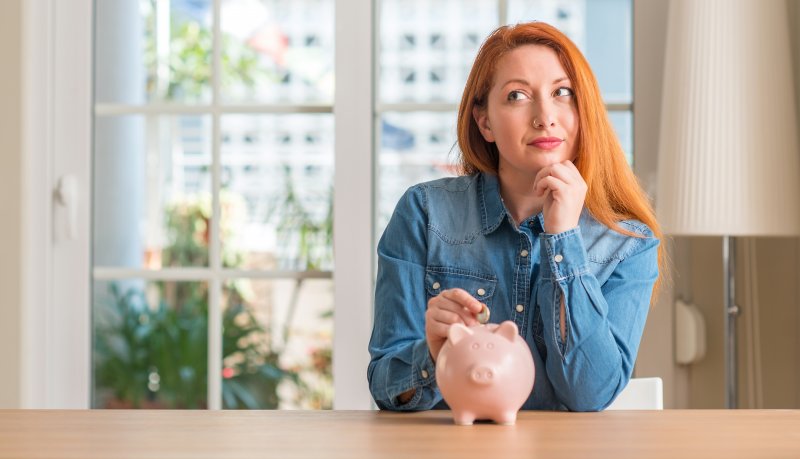 Even if you are great at keeping up with your oral hygiene, regular dental visits are still a necessary step to achieve a healthy smile. However, many people put their routine dental cleanings on hold for a variety of reasons. For patients without dental insurance, it is often an effort to pinch some extra pennies. The truth is that by seeing your dentist regularly, you can actually save money in the long run. Continue reading the different ways your regular visits help you save.
Prevent Tooth Decay
Even if you are an excellent brusher and flosser, there will always be places that you can't help but miss. This is where your routine dental cleanings come into play. During your visit, your hygienist will clear away buildups of plaque and tartar that could lead to decay in the future. Your dentist will check for existing decay so it can be treated sooner rather than later. By opting for a filling now, you may be able to avoid the need for root canal therapy or an extraction in the future. Both of these treatments are more invasive and have a higher out-of-pocket cost, even if you have dental insurance.
Ward Away Gum Disease
Every time you have a checkup with your dentist, they examine your smile for early signs of gum disease. It is extremely common, with half of Americans over the age of 30 are suffering from it. The good news is that it is very easy to prevent and can be reversed in its early stages. However, when left untreated, gum disease can cause gum recession, loose teeth, and tooth loss. It has even been linked to other medical issues in the body, some being life threatening – like heart disease and diabetes! By addressing gum disease with your dentist now and working on a solution, you can save money on future restorations and invasive gum disease treatments.
Reduce Discoloration
At the end of your cleaning, your hygienist polishes your teeth using a gritty material known as prophylaxis paste. This helps to break apart surface stains that are caused by smoking, drinking coffee, and aging. By having this done routinely, you are less likely to feel the need to invest in cosmetic treatments in the future to reverse discoloration.
Detect Oral Cancer
Your dentist checks for this deadly disease at the start of all of your checkups. When picked up on early on, it can often be easily treated, and patients can make a full recovery. But since it progresses so quickly, missing a single dental visit could mean that you need intensive chemotherapy and other invasive, costly treatments. Remember that your dental visits not only save you money, but they can save your life!
Want to avoid large oral healthcare bills in the future? Then schedule regular dental visits! Your smile and your wallet will thank you!
About the Practice
At Healthy Smiles Dental Care in Chelsea, MI, we have a team of multiple dentists, including specialists, so you can get virtually anything you need in one convenient location. We accept numerous common PPO insurance plans and are happy to file claims on your behalf. We also offer an in-house dental savings plan for patients without dental insurance. For more information on dental financing options or to schedule an appointment, visit our website or call (734) 475-8911.