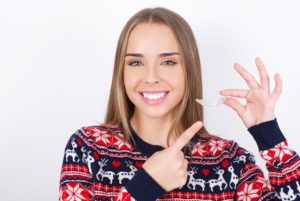 Invisalign is one of the most popular methods for obtaining a healthier and more attractive smile, and more patients than ever before are beginning their respective Invisalign journeys. That said, this process isn't always smooth-sailing, and sometimes life can throw all sorts of distractions your way that make it difficult to keep up with your treatment—especially during the holidays! Here are a few tips from your dentist in Chelsea to help you make it through the season without compromising or delaying your Invisalign treatment.
#1. Follow the 22-Hour Rule
The American Dental Association, one of the most reputable dental organizations around, is where the 22-hour rule originates—meaning that it's a pretty important guideline that's meant to be followed! Invisalign works by gradually shifting your teeth into healthier positions, so if you aren't wearing your aligners often enough, your teeth won't move as intended. And since things tend to get busy during the holidays, it might be tough to keep track of your wear time amidst all of the festive distractions. To make things easier, you can set a reminder on your phone or utilize a timer to ensure that you're wearing your trays frequently.
#2. Remove Your Aligners Before Eating
It's easy to be excited about the holidays if you're a fan of food, but you should be sure that you're removing your aligners before you eat anything—the only exception to this rule is drinking water. Your aligners are quite fragile and can easily become damaged, disfigured, or even stained if you eat or drink while wearing them. It's always wise to remove them and store them in their carrying case whenever you sit down for a snack or meal.
#3. Keep Your Aligners Clean
You should also take measures to keep your aligners clean in addition to removing them before eating. One of the coolest features of Invisalign is that the aligners are transparent and virtually invisible while being worn—hence the name! That said, if you're unable to keep your aligners clean or leave them in unsanitary places, they can easily become dirty and unpleasant to wear. Keeping up with your oral hygiene is one way to ensure that your aligners have a clean environment to reside in.
#4. Keep Tabs on Your Aligners
Although your aligners should be worn for most of the time, there are still instances when you'll have to take them out, such as when it's time to eat or brush. You should carry your Invisalign storage case with you everywhere, whether you're traveling or at home for the holidays. This case will allow you to protect and keep tabs on your aligners when they aren't being worn—after all, replacement aligners will only delay your treatment and add to your total bill!
Following these tips will help you keep your Invisalign treatment progress on track this holiday season so that you can focus on enjoying all of your planned festivities.
About the Practice
The team at Healthy Smiles Dental Care is honored to serve the dental needs of the Chelsea, MI area! The practice is fortunate to house four skilled specialists: Dr. Steven Rodriguez, Dr. Swapna Kakarla, Dr. Alison Tseng, and Dr. Hana Gadalla. If you have any questions about Invisalign or would like to arrange a visit, you can contact the practice through their website or over the phone for additional information or assistance: (734) 475-8911.