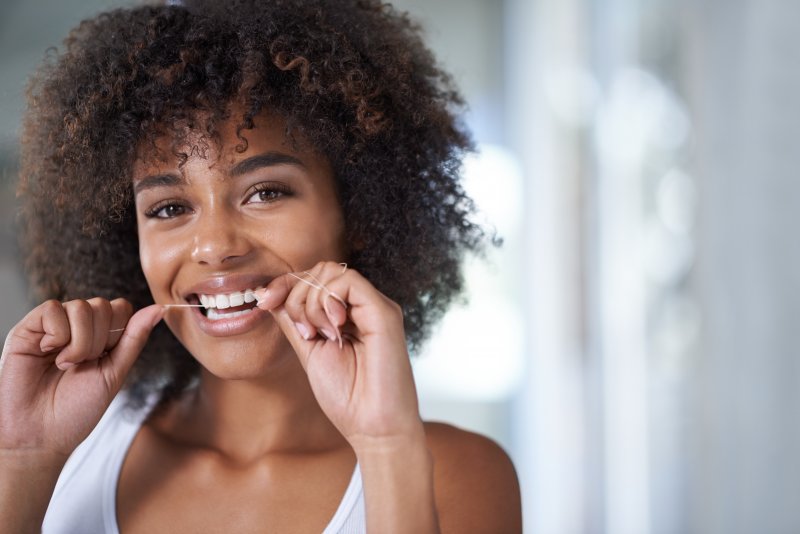 Now that it's the new year, you'll likely be considering resolutions to implement to improve your overall well-being. Other than the staple traditions like traveling more often or going to the gym, you should consider improving your oral health. Even if you brush your teeth regularly, flossing might be something you need to work on. Not only can you avoid bacteria and decay, but you'll also reduce the risk of gum disease. Read on to learn why flossing more often is essential, how to do it correctly, and tips to make it an easy New Year's resolution to commit to!
Why Is Flossing Essential to Oral Health?
Most people are aware that brushing twice a day is crucial for preserving good oral health. However, this isn't the only way to maintain clean and healthy pearly whites. In fact, brushing only addresses about 60% of your smile. By flossing, you can remove food particles, debris, and plaque-causing bacteria from between your teeth and underneath the gum line, which is where most germs accumulate. For this reason, flossing is essential for addressing the nooks and crannies that your brush simply can't reach. Choosing not to do this at least once daily can raise your risks of developing infections or other oral health complications.
The Proper Way to Floss
Although you'll want to clean between your teeth with a dental strand to keep your smile in pristine condition, there are certain steps to do it safely and properly. Here's a quick guide on how to floss:
Use about 18 inches of dental strand and wrap it around your middle fingers, leaving about an inch in between to work with.
Guide the floss gently between your teeth in a rubbing motion, avoiding any sudden movement that can damage your gums.
Once beneath the gum line, curve the strand into a 'C' shape against a tooth.
Carefully scrape the side of the tooth with an up-and-down motion.
Move onto a clean portion of the dental floss and repeat these steps for the rest of your teeth.
Tips to Make Flossing a Habit
If you don't normally floss once a day or after every meal, you can practice a few measures to turn it into a simple habit, including:
Create a realistic goal – Try to first commit to flossing every few days until it becomes part of your daily routine.
Address any barriers that stop you – By understanding the thing that's keeping you from flossing, you can develop a solution or alternative to help you build this habit. For instance, if you think there isn't enough time, try cleaning your teeth while watching TV! You can also set reminders on your phone if you tend to forget easily.
Remember the risks – Being aware of the complications that can come from not flossing can help motivate you to do it more often.
Try making flossing part of your daily routine with these few tips. You'll be able to enjoy much healthier teeth and gums throughout the year and beyond!
About the Author
Dr. Steven Rodriguez earned his dental doctorate from the University of Michigan. He has well over three decades of experience and regularly pursues continuing education to refine his skills. He offers a wide selection of high-quality services, including gum disease treatment and dental checkups/cleanings. If you'd like to schedule an appointment, visit his website or call 734-475-8911.