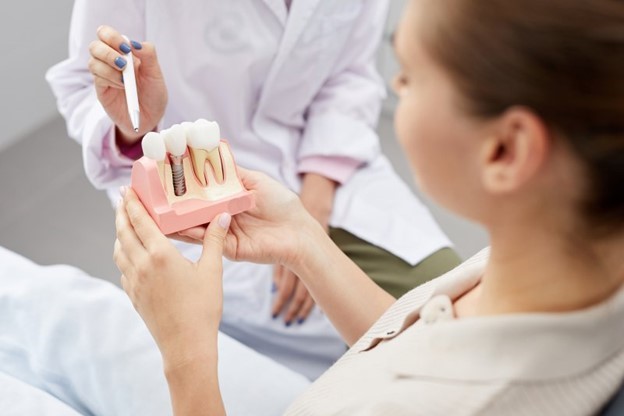 Missing teeth can cause your self-confidence to take a blow. Fortunately, dentists offer a variety of replacement options to fill in the gaps, including dental implants. These titanium screws are the only option that replaces the roots of a missing tooth. If you're thinking about undergoing implant placement, you may be concerned about how safe this treatment is. Continue reading to learn how the procedure works as well as how safe it is to get dental implants.
How the Dental Implant Procedure Works
Dental implants are incredibly durable and long-lasting. This is because they are inserted through the gums and directly into the jawbone. Once there, they will fuse with the jaw through osseointegration. This process takes four to six months on average and is the reason why implants are so reliable.
Are Dental Implants Safe?
With a 95% success rate, it's uncommon to experience issues with the dental implant procedure. Even so, issues can still develop if you don't take good care of your beam post-op. Gum disease and cavities are two oral health problems that are often the result of improper dental hygiene. Left untreated, tooth decay or severe periodontal disease can cause additional tooth loss.
When you lose teeth, your surrounding pearly whites will shift to fill in the gap. Over time, the uneven distribution of pressure will cause these teeth to weaken. This may ultimately cause additional tooth loss. There's also a small chance of oral surgery leading to serious conditions, like bleeding disorders, allergic reactions, or infections.
5 Ways to Care for Your Dental Implants
To keep your smile in good condition, it's important to follow the instructions your dentist gives you after your procedure. Some other ways to prevent cavities, gum disease, and other things that may jeopardize your dental implants include:
Brush your teeth – Brush for two minutes in the morning and again at night. Use a soft-bristled toothbrush and fluoride toothpaste to strengthen and protect your smile.
Floss your smile – Flossing will remove plaque and food particles from between your teeth to lessen your risk of gum disease and cavities.
Avoid bad oral habits – Eating too many sweets, smoking cigarettes, drinking alcohol excessively, or any other habits that can harm your smile should be avoided.
Eat a balanced diet – Lean meats, fresh, crisp fruits and veggies, nuts, fish, and low-fat or fat-free dairy products contain vitamins and minerals that your smile needs to remain healthy.
Visit your dentist – Biannual appointments will allow your dentist to treat oral health problems early on and give you tips on how to prevent them in the future.
About the Practice
Patients living in the Chelsea area in search of a skilled dental team will be in good hands with Dr. Steven Rodriguez, Dr. Swapna Kakarla, Dr. Alison Tseng, and Dr. Hana Gadalla. These four skilled dentists lead the team at Healthy Smiles Dental Care of Chelsea, administering treatments like dental implants to fill in gapped smiles for a healthy, full appearance. If you want to make an appointment with Healthy Smiles Dental Care of Chelsea or to learn more about dental implants, visit their website or call their office at (734) 475-8911 to get started.