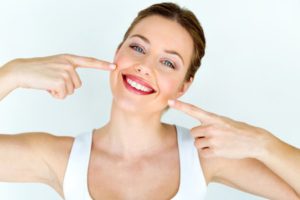 Did you know that your smile is often the first feature that people notice about you? But while it's true that a beautiful smile will capture the attention of those around you, it's also true that smiling is accompanied by several awesome health benefits that you might not know about! Here's more from your dentist about five of the unique advantages that smiling has to offer and why you shouldn't hesitate to show off your pearly whites.
1. Smiling Makes You Look Younger
It's possible that you've heard smiling or laughing can create wrinkles or crow's feet in the face, but this simply isn't true. In fact, some studies show that not smiling enough is what causes these issues and causes a person to appear older. A study from the Max Planck Institute found that participants who viewed pictures of smiling faces thought they seemed much younger-looking than people pictured with neutral expressions. Needless to say, showing off your pearly whites can certainly turn back the clock!
2. It Fortifies Your Immune System
If you're familiar with the expression "laughter is the best medicine," you should know that there's actually some scientific truth to the adage. Research from the Loma Linda University School of Medicine found that smiling and laughing often actually increased the number of white blood cells in the body, which play a critical role in fighting off infections and boosting the immune system.
3. It Reduces Your Stress Levels
There is also research that shows smiling often can reduce the overall amount of stress your body is feeling. This is because the muscle activity involved with smiling sends signals to the brain that are meant to calm you down. Additionally, smiling is also associated with a faster physiological recovery from stress; so, don't hesitate to grin when things get tough!
4 It Enhances Your Confidence
There's something magnetizing about people who smile often—humans are social creatures, and we tend to feel more attracted to those who project a more personable and friendly outlook. Conversely, we tend to avoid those who seem sullen or angry, often expressed through constant frowning. Smiling allows you to maintain a positive and confident image of yourself that may help you to navigate social situations or succeed in the professional world; this unparalleled boost in self-esteem should have you wanting to smile as frequently as possible!
5. It Makes Yourself Happier
Even when a smile isn't a natural reaction to something pleasing, the movement of those facial muscles can still stimulate the area in your brain that's responsible for feelings of happiness. A study led by physiologist Paul Ekman tested students smiling spontaneously and on purpose, and it found that the activity recorded in their brains was almost the same on each occasion.
With the many awesome benefits that a healthy smile can offer you, it's in your best interest to look after yours as diligently as possible. That said, don't hesitate to talk with your dentist about how you can ensure that your smile is in tip-top shape and as dazzling as possible.
About the Practice
The team at Healthy Smiles Dental Care is thrilled to provide patients and families in the Chelsea, MI area with an exceptional level of care! The practice offers a wide range of preventive, cosmetic, and restorative treatment options that are certain to help your smile achieve a beautiful and healthy state. If you have any questions about the article or would like to arrange a visit, you can contact the practice online or over the phone for further assistance: (734) 475-8911.